FAA-Delayed whooping cranes are finally free in Alabama
by Pam Rotella
10 February 2012
HoriconBirds.com


The ultra-light-led whooping cranes whose migration was delayed by weather and an FAA investigation, among other things, were "released just this morning... and free to roam now" according to Joe Duff, lead pilot and co-founder of Operation Migration.

On Saturday, the 2011-12 flock's migration ended by vehicle, at Wheeler National Wildlife Refuge in Alabama. An enclosure had been prepared for the cranes there, where they remained until today. The birds were given health checks, fitted with transmitters, and banded on Wednesday* by a crane-costumed team.

"They are in familiar territory right now, because they've been there for several days," said Duff. For the birds, today's release gives them a chance to leave their enclosure and find other cranes that winter at the refuge, including sandhill cranes and a few adult whooping cranes. Earlier this year, the International Crane Foundation found two of its Horicon-released whooping cranes at the Wheeler refuge, although Mr. Duff revealed that now four of the whooping cranes at Wheeler have been identified as a part of Horicon's first flock.

One reason for today's release, according to Duff, is that sandhill cranes have been observed leaving Wheeler refuge en masse, heading north. Operation Migration's team is hoping to ensure that the newly-released cranes have the chance to find other cranes before most have started their northern migrations.

When asked for his thoughts on why last year's flock had refused to continue their journey south after the lengthy delays, Duff mentioned several factors including weather, and also that it's late in the migration season. "The year before, we were finished in December," he said. "...On top of that, we're talking about birds that were hatched in April and May." It's now "...past the time that they would normally migrate."

"It may be a hormonal change," he continued. "...They're just like teenagers, basically," Duff said, referring to how wild birds naturally interact with their biological parents. "They become independent at some point." As an Operation Migration pilot, Duff has served as a crane-costumed surrogate parent for whooping cranes over many years. This late in the season it's almost time for their return migration, "and then they may or may not accompany their parents north."

Operation Migration originally planned to show the captive-bred cranes how to migrate to Florida, but after numerous delays on the ground in Alabama, several birds became unwilling to follow the ultra-lights. A decision was finally reached to leave the birds at the Alabama refuge, partly because trucking the birds to Florida would not show them the return migration route.

"We teach the birds how to migrate," said Duff. "When you put them in a box... they don't really know where they are." He continued that the birds need to find their way to the southern end of Lake Michigan, and then he hopes that they will remember to go left into Wisconsin. From there the cranes should be able to locate their original release site.

This year's flock was released from a new nesting location in Wisconsin, White River Marsh. Previous flocks had difficulty nesting at Necedah due to black fly swarms there, and so in 2011 White River Marsh and Horicon Marsh locations were selected as new release sites.

According to Duff, Operation Migration's "lost whooping crane" separated from his group of ten on the first day of the 2011 migration, leaving only nine in the ultra-light-led group. That crane was later found with a group of sandhill cranes, but when the sandhill cranes flushed, so did the whooping crane. The separated whooping crane's transmitter also failed, and so he wasn't located until he arrived in Florida on his own. Duff says that the bird will have to be recaptured in order to properly band him and attach a new transmitter.

Whooping cranes released from captive-bred programs in Wisconsin have a special status, Duff explained -- that of less than an endangered species, and so all must be banded and fitted with transmitters. Joe Duff described the details of this arrangement on the organization's "In the field" blog yesterday:

"Although Whooping cranes are critically endangered, that status does not apply to the birds that WCEP is introducing into the Eastern Flyway. The Endangered Species Act protects the birds, and it also applies to the habitat they use. If the birds wintered or nested in private wetland, there are serious implications for the owners. Naturally that led to some concerns when this project was first proposed.

"Luckily there is a provision within the Act that allows for an experimental, non-essential designation. These birds are considered experimental and not critical to the survival of the species so they have the status of 'threatened' which relieved a lot of tension for everyone involved. That agreement was signed by seven states along the migration route, thirteen more into which the birds may disperse, as well as two Canadian Provinces. However, if they wander out of that range, it becomes a problem so they must be permanently marked with leg bands. In addition, they need to be fitted with better radios than the snap on type they wear during the migration, and a few get satellite transmitters called PTT's..."

The 2011-12 migrating flock's troubles became national headline news last month, as it was revealed that Operation Migration was the subject of an FAA investigation. At first, the migration proceeded as expected to Alabama, but then the flock was grounded there after December 11th due to weather... and then an equipment problem, and then what the organization said on its "In the field" blog was a back injury of one of its designated pilots, and then a break for the holidays.

The holiday break continued for several days after New Year's Day, until finally on January 5th, David Sakrison from Operation Migration's Board of Directors posted a message stating that in fact the group had been dealing with an FAA investigation over the holidays: "In November a Letter of Investigation was sent to each pilot. After discussions with the FAA in December, Operation Migration voluntarily ceased any flying while the matter is resolved. We hoped that would happen during the Christmas break, but it is taking longer than anticipated." Sakrison detailed the issue as, "... whether or not OM's pilots are flying 'for hire,' or, for the furtherance of a non-profit. OM aircraft are licensed as Light Sport Aircraft (LSAs) which came into effect in 2008. FAA regulations prohibit flying LSAs for hire or as part of business activities. The FAA has begun the process of evaluating a waiver to OM, exempting its pilots and aircraft from that rule."

On January 9th, the group announced "a one-time temporary exemption" from the FAA to allow its pilots to finish the 2011-12 migration. However, extreme weather conditions continued to keep the birds in their Franklin County, Alabama pen for more than two weeks. When flying conditions were finally favorable, the birds refused to follow the ultra-light pilot as a group, and so the migration was stopped a short distance south in neighboring Winston County, Alabama. Subsequent attempts to lead the nine birds as a group failed, as some continued to break away from the main flock. Finally a decision was reached that the cranes would need to be transported "by road" to their final destination of the season in order to keep the flock together. A meeting of The Whooping Crane Eastern Partnership (WCEP) concluded with a decision that the birds would be trucked to the Wheeler National Wildlife Refuge in Alabama, rather than suffering a longer distance to the originally planned locations in Florida -- St. Mark's or Chassahowitzka National Wildlife Refuges.

On Sunday, February 5th, Joe Duff expressed his insights on OM's blog. "Yesterday we placed the birds in individual containers and quietly loaded them into the van. In doing so, all of us had to balance the science of migration with the disappointment of not having completed our mission."

"The most important consideration is that we have a new reintroduction site in Wisconsin that we hope will encourage birds to breed in an area free of the black flies that seem to threaten the population at Necedah. The team wanted to give these birds the best chance to get back there, and Wheeler NWR is the option closest to the ultra light-led migration route."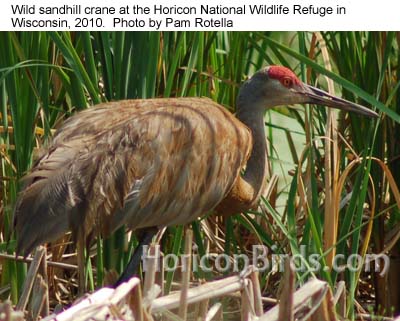 In addition to Operation Migration's White River flock, Horicon Marsh hosted a group of captive-bred whooping cranes in Wisconsin for the first time last year. The new Horicon flock was released by the International Crane Foundation of Baraboo, which also raises captive-bred whooping cranes with costumed handlers. However, ICF releases its cranes into the wild and allows them to follow older cranes along their migration routes rather than using the ultra-light method.

Captive-bred release programs in Wisconsin are attempting to reestablish traditional flyways that whooping cranes used before the birds nearly went extinct in the 1900s. A wild flock migrates between Canada and Texas, but the importance of training crane flocks an alternative route has become more apparent this year with a drought in Texas that threatens the Texas flock's natural prey animals.

Whooping cranes are one of the most endangered birds in the world, and almost went extinct in 1941 when it was estimated that only 16 birds remained. According to Kate Fitzwilliams of the International Crane Foundation, whooping cranes now number 599 overall, 162 of those in captivity.


-------------------------
*Correction: On Operation Migration's "In the field" blog, Liz Condie posted an entry on February 11th saying that the birds were banded and health-checked on Thursday, not Wednesday.


All original content including photographs &copy 2012 by Pam Rotella.